IT Asset Management
| | |
| --- | --- |
| Capability | Description |
| Cloud Insights | Gain visibility into your cloud infrastructure to manage resources, IT spend, and risk. |
| Hardware Asset Management | Reduce costs and minimize risk for hardware and consumable assets. |
| Software Asset Management | Modernize software asset tracking to reduce spend, mitigate risk, and take action across IT. |
| Asset Management | Gain core asset management abilities to oversee infrastructure, operations, and field services. Inform inventory, stockroom, and contract decisions. |
| IT Asset Offboarding | Streamline the offboarding of assets with a digital workflow to manage the whole process. |
| SaaS License Management | Manage SaaS costs and usage with meaningful insights and actionable data. |
Benefits of Cloud Insights
Cloud Insights manages cloud resources to reduce spend and minimize risk. Gain visibility into total cloud consumption across SaaS, IaaS, and PaaS (service, infrastructure, platform as a service)-all in one place.
Consolidate IT and cloud management (Image of Cloud Insights dashboard)
Workflows tasks that control cloud costs with system-driven savings recommendations.
Reduce cloud costs (Dashboard showing cloud spending)
Provides complete visibility into total public cloud spend and takes steps to prevent cloud waste.
Automate and streamline (Automating turning off unused machines)
Reduces manual processes by automating cloud tasks from provisioning to retirement.
Features of Cloud Insights
Cloud spend dashboard (Cloud Spend Dashboard)
Tracks hybrid cloud spending in one place, including SaaS, IaaS, and PaaS, to cut cloud costs.
Cloud spend analytics (Available features in Cloud Insights)
Generates cloud spend, trend, and forecast reports and adjusts to improve spending automatically.
Rightsizing resources (Scheduling a rightsizing)
Monitors and analyzes resource provisioning and usage levels. Adjusts sizes to reduce waste.
Business hours (Business hours menu)
Identifies, reports, and makes changes to resources that are running when they should be powered off.
With Cloud Insights, customers can automatically determine who is using cloud resources. Flexible, configurable policies classify cloud resources based on tags and other attributes, assigning each resource to specific owners, cost centers, business services, applications, and other entities.
If customers use ServiceNow Discovery, Cloud Insights leverages this data to classify cloud resources. If they don't currently use Discovery, Cloud Insights can still leverage billing reports and similar sources for classification.
Additional Cloud Insights features
| | |
| --- | --- |
| Feature | Description |
| Bring your own license (BYOL) | Mitigates software license compliance risk and lower costs across the hybrid cloud infrastructure. |
| Cloud budgeting | Monitors and creates flexible budgets, and accurately forecasts cloud spending. |
| Cloud spend analytics | Generates cloud spend, trend, and forecast reports and adjusts to improve spending automatically. |
| Cost tag categories | Normalizes tags in the environment to classify cloud resources and simplify cloud cost reporting. |
| Insights ownership | Assigns service accounts to a dedicated owner who can define jobs and policies and view data. |
| License and cloud cost simulator | Estimates costs for moving licenses from on-premises to the cloud. |
| Reservation plans | Provides guidance and recommendations to drive down costs and utilization of reserved instances. |
| Unassigned resources | Sets policies to identify resources that are not associated with an assignment group and assign them appropriately. |
| Unused machine analysis | Analyzes usage data to identify and power-off or terminate resources that aren't being used. |
Benefits of Hardware Asset Management
Hardware Asset Management (HAM) provides advanced workflow, automation, and mobile capabilities to maintain assets.
Gain end-to-end IT asset visibility (HAM workspace)
Normalizes discovered hardware to maintain a clean CMDB and keep the asset inventory accurate.
Accelerate asset workflows (Requesting a computer)
Simplifies lifecycle processes with automated asset workflows. This includes request, receive, deploy, swap, and dispose.
Reduce asset costs and risk (Lifecycle chart for assets)
Gives insights that help refresh strategic assets, minimize waste, and enable compliance.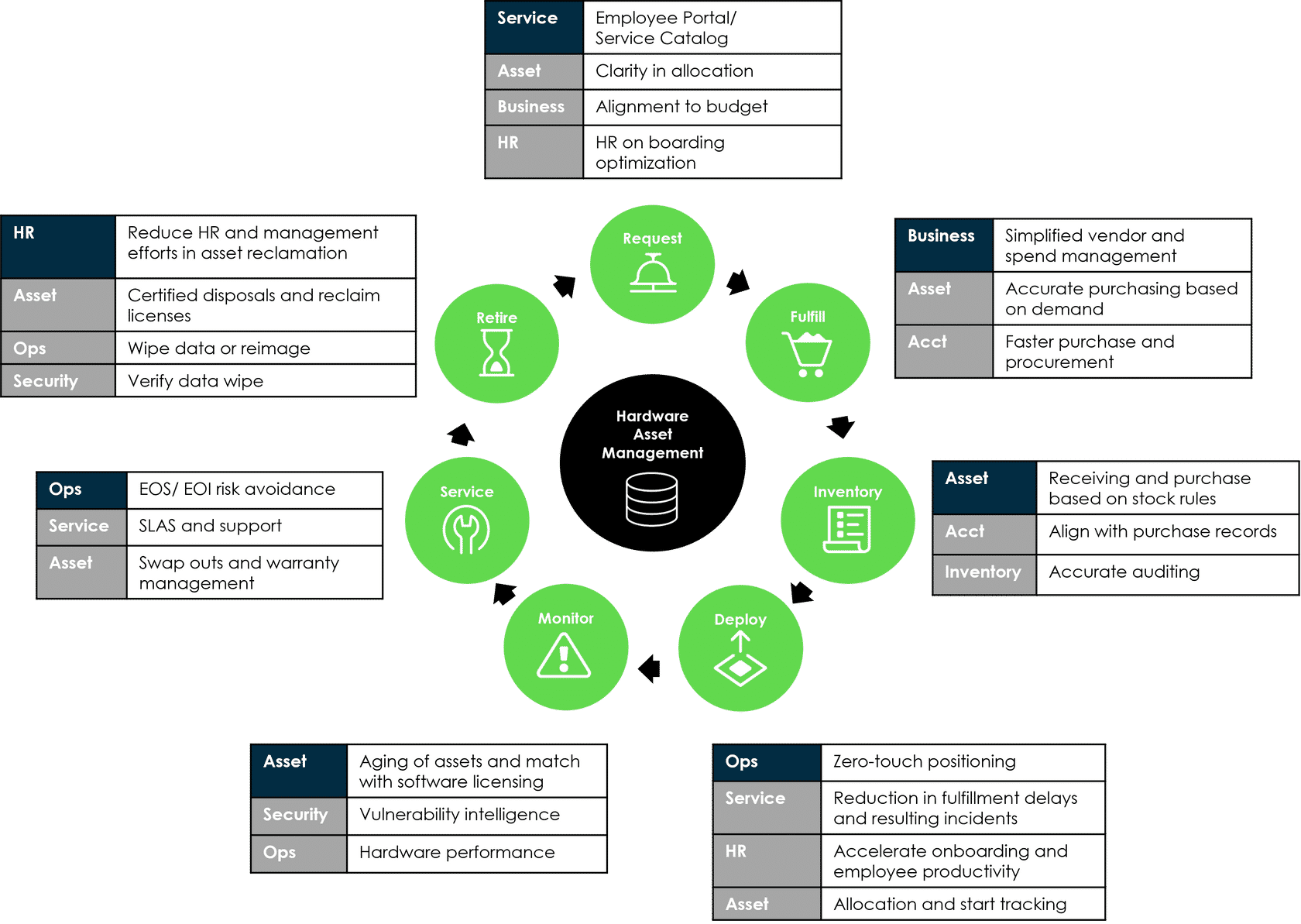 Features of HAM
Hardware normalization (360 asset view for estate)
Normalizes hardware with verified attributes, and automatically adds undiscoverable metadata to assets.
Asset lifecycle automation (Setting a lifecycle policy for automation)
Improves accuracy, embeds service context, and accelerates delivery with automatic configuration item (CI) and asset record updates.
Hardware asset dashboard (HAM dashboard)
Surfaces items and enables direct action quickly on a centralized hardware dashboard.
Asset inventory audit (Mobile audit workflow)
Improves data quality and inventory process compliance with Mobile Agent and mobile scanning capabilities.
Additional HAM features
| | |
| --- | --- |
| Feature | Description |
| Asset bundles | Manages complex groups of assets as a single parent record. |
| Asset management executive dashboard | Displays software, hardware, and cloud technology at the executive level. |
| Asset onboarding and offboarding | Simplifies employee onboarding and offboarding process with automated workflows. |
| Asset reservations | Reserves temporary assets, tracks fulfillment, and predict future demands. |
| Contract and renewal management | Renews hardware and software contracts through guided actions. |
| Hardware asset workspace | Drives asset management productivity on a purpose-built workspace. |
| Mobile asset receiving | Allows multiple assets against a purchase order to be received using a mobile device. |
| Mobile my locker | Enables end users to request and view assigned assets and open incidents. |
| Return merchandise authorization | Automates RMA processes for products to be returned, replaced, or repaired. |
Asset automation
Hardware Asset Management (HAM) automates each stage of the hardware asset lifecycle by tracking the financial, contractual, and inventory details of hardware and devices, including non-IT assets. Asset requests are handled using workflows to obtain approvals, issue chargebacks, and provision services. Once an asset is deployed, HAM records maintenance activity and enables IT to perform regular assessments.
HAM allows users to manage the entire lifecycle from procurement to disposal. The configuration management database (CMDB) is focused on active configuration items (CIs) that are currently available in the operational environment. To maximize the value of an asset, customers need full lifecycle insights for planning through retirement. With HAM and their CMDB on the same platform, traditional challenges around data integration, normalization, and data reconciliation are eliminated. The following diagram illustrates how an automated hardware asset lifecycle uses the native integration with other ServiceNow solutions on the Now Platform.
Benefits of SAM
Software Asset Management (SAM) systematically tracks, evaluates, and manages software licenses, compliance, and optimization. Reclaim unused software rights, purchase new software rights, and manage allocations for entitlements.
Manage spend with SaaS License Management, has out-of-box capabilities for services such as Adobe Creative Cloud, DocuSign, Zoom, Box, Dropbox, Microsoft O365, and WebEx
Reach business outcomes faster (Software asset overview)
Workflows software data to deliver value cross-functionally using platform capabilities already in place.
Mitigate risk (Tracking software entitlements)
Reduces software license risk by embedding SAM into IT change and acting on unlicensed deployments.
Slash software spending (Overlapping software)
Cuts software and cloud spend by finding shadow IT, reducing overlap, and optimizing license use.
Features of SAM
Software spend detection (Software asset dashboard)
Solves distributed IT spend by uncovering costs by geo, cost center, vendor, product, and people.
SaaS License Management (Software asset analytics)
Manages SaaS costs and usage with meaningful insights and actionable data.
Publisher packs (Software by publisher)
Reviews license compliance and optimizes positions for the most complex on-premises and SaaS products.
Software asset connections (Flow of software from discovery to CMDB)
Integrates installed software data from any existing discovery tool.
Contract and renewal management (Contracts dashboard)
Renews hardware and software contracts through guided actions.
Additional SAM features
| | |
| --- | --- |
| Feature | Description |
| Asset Management Executive Dashboard | Oversees software, hardware, and cloud technology at the executive level. |
| Automated Entitlements | Automates or follows a playbook to import and create procurement data. |
| Bring Your Own License | Uses existing perpetual licenses in public cloud environments. |
| Cloud Insights | Provides visibility into your cloud infrastructure to manage resources, IT spend, and risk. |
| Content Library and Machine Learning | Leverages machine learning to get high normalization rates out of the box. |
| Engineering License Manager | Monitors usage and optimizes licenses for engineering and specialty apps. |
| FedRAMP certified | Strengthens the data center's security profile with FedRAMP certification. |
| HR Asset Onboarding | Simplifies and automates hardware and software allocations for new employees. |
| License and Cloud Cost Simulator | Estimates costs for moving on-premises resources to the cloud. |
| Managed Service Provider Support | Delivers hosted SAM services to enterprise clients with secure domains. |
| Performance Analytics | Anticipates compliance trends and reports on costs with real-time analytics. |
| Remediation Options | Reassigns, reclaims, and revokes software allocations with automated workflow. |
| Restricted Software Lists | Flags unauthorized personal software and take action for removal. |
| Software Asset Management Playbooks | Provides step-by-step guidance for completing software management tasks. |
| Software Asset Workspace | Displays recommended activities, alerts, and actionable insights in one place. |
| Software Exposure Assessment | Identifies and remediates vulnerabilities with automated workflows to security. |
Managing software with ease
Almost every worker in an enterprise has a computer and uses software provided by their company, whether on-premises or cloud-based. SAM is the motion or tool that is used to help IT oversee and control software assets from a physical, financial, and contractual perspective. Besides managing the distribution and usage of software, this discipline includes lifecycle processes, policy and governance monitoring, and enforcement.
The benefits of having a singular, centralized SAM include the cost savings created from consolidated, companywide purchase and usage agreements (rather than ad-hoc purchasing), reduced risk by ensuring license compliance, and decrease in expenditures from underutilized applications.
SAM technology automates much of the manual and error-prone processes such as spreadsheets, email, and siloed contract information.
A SAM solution centrally manages:
New software licensing, licensing removal (compliance to licensing), and usage (shelfware still being paid for)
Usage metrics for existing applications—to ensure the company gets the greatest value from their software purchases
New requests—for addition or removal of software (should integrate with the ITSM system)